3 Sep
When you take a step back and look at the bigger picture sometimes the world becomes clearer and you see how everything just seems to fit together.  This week's exercise is a great example of  just that.  Random slices out of a whole scene don't tell you the whole story and you don't get the rich in depth view of the experience.
My bigger picture includes living a purposeful life and I try to push myself each day to amplify my experiences by including those things that are meaningful and important to me on a deeper level. I look for those things I love-what makes me happy and feel fulfilled-and turn the volume up on those experiences.  So, when planning a trip, even a two day train get away, my husband and I try to amplify our experience, and make our travel purposeful where ever possible.
We love to hike,  learn, and uncover pieces of the past so a trip to Painted Rock. Carrizo Plain National Monument via Amtrak's Pacific Surfliner to check out an ancient Native American Chumash site seemed to fit our needs perfectly.
Of course you must always pack the proper shoes for the occasion. This is a photo of me, in my natural environment.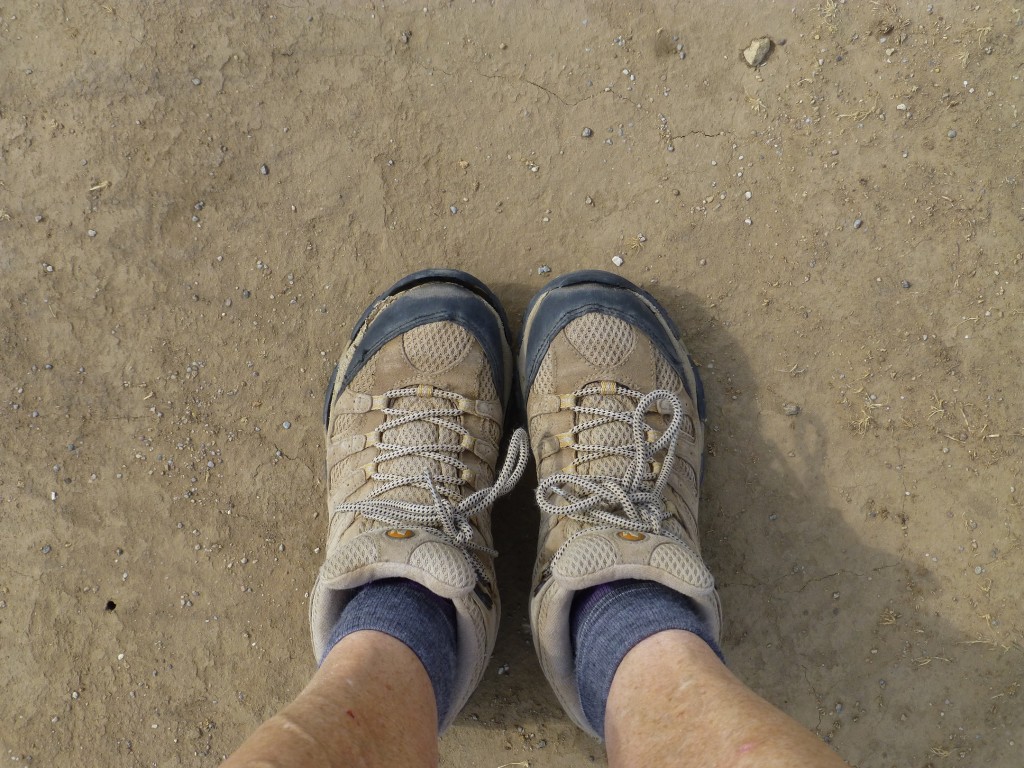 Pre-planing served us well on this trip. Carrizo National Monument is open to the public and there is no admission fee however, Painted Rock is behind a locked gate in a protected area.  From March to mid-July you must get a guided a tour and those can be arranged at the Education Center. The rest of the year, you can do a self-guided tour but you must apply for access, get approved, and get a gate code to access the site.  The night before we left for our trip we got our access code via email!
One of the first things we saw was this rock cluster covered with different colored lichen-the stuff that rock art paint is made of! Orange, green, red, and, at this site, even purple lichen covered the rocks.
Of course, these creatures (Dan and me), in their natural element must take photos!
The whole scene was a bit eerie. Here we were, in the middle of absolutely nowhere, completely alone. Or so we thought.  Check out what is coming over the hill.
And here he is, in all his glory, at full glide, across the side of the hill. It always amazes me just how graceful full grown elk can be.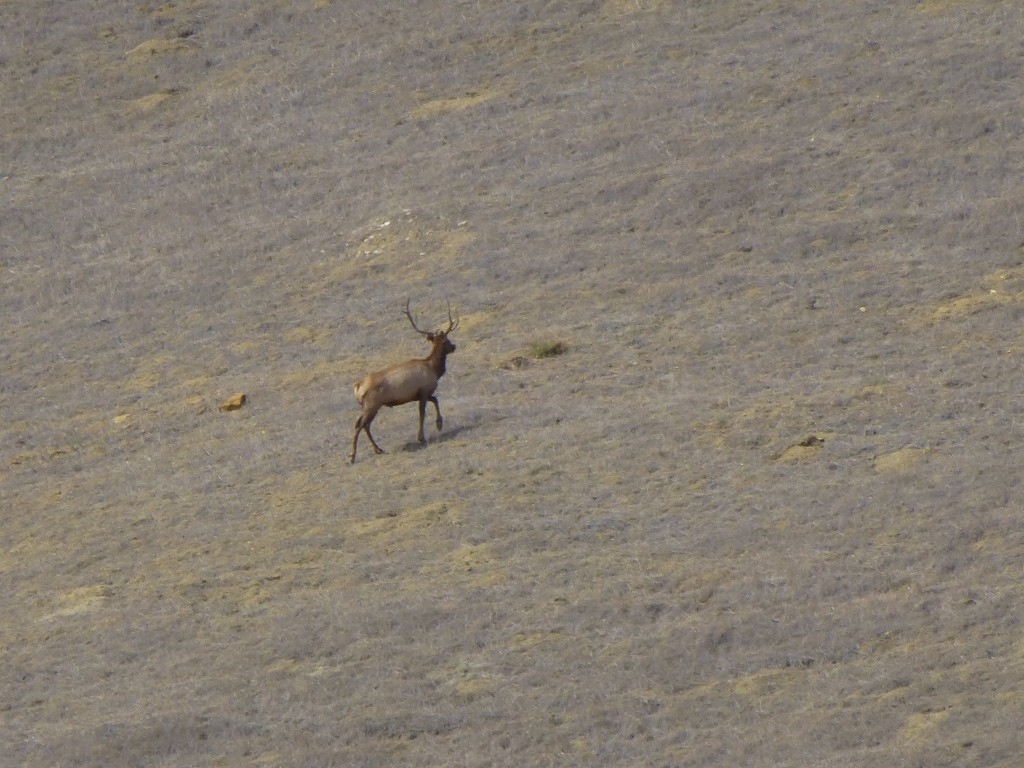 At the end of 3/4 mile hike and some serious exploring and wonder, we came to another rock formation just sitting in the middle of this huge plain.  The rocks formed a protected bowl and here is just a sampling of what we found in that bowl.
The Chumash used this area for ceremonies and gatherings. Standing in the middle of the rocks, you can almost feel the ancients, hear the drums and the singing, see the dancers and painters, and experience the rich history this place holds.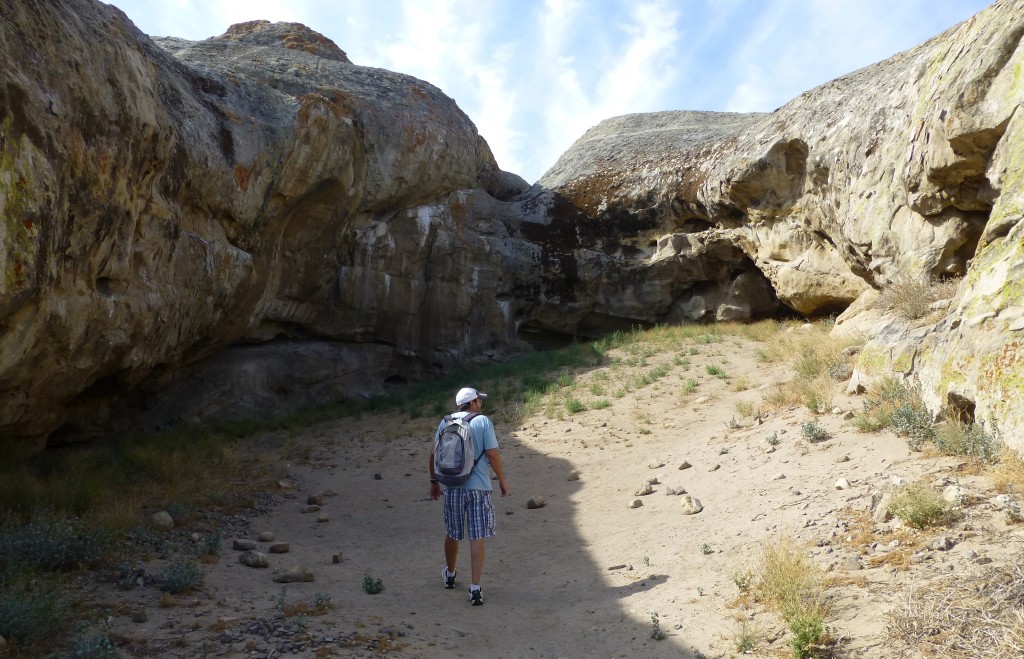 And some bonus photos of this amazing site!
The trail in…. Hot, dry, and completely civilization-free!
Across the Carrizo Plain is the dried up Soda Lake…. More on this next week but this shot of the vast plain gives you an idea just how alone we were on this site. Very powerful feeling.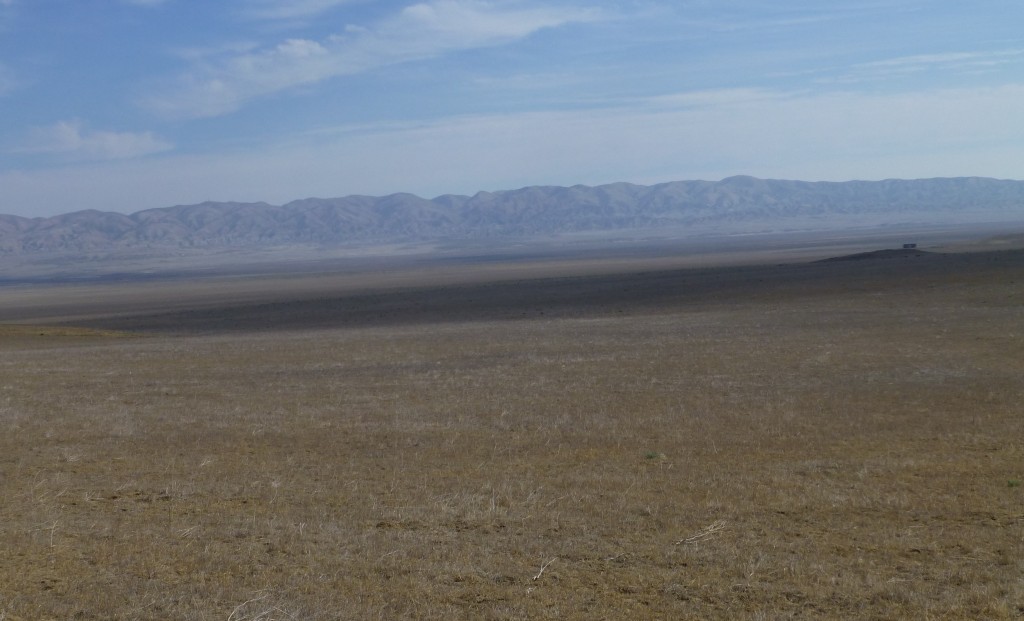 And there, in the distance, was the Painted Rock site.
Rock art is a generic term for the images left behind by the ancients all over the world. There are two types of rock art: petroglyphs and pictographs.
This etching is one of the first images we saw as we walked.  Carvings are called petroglyphs.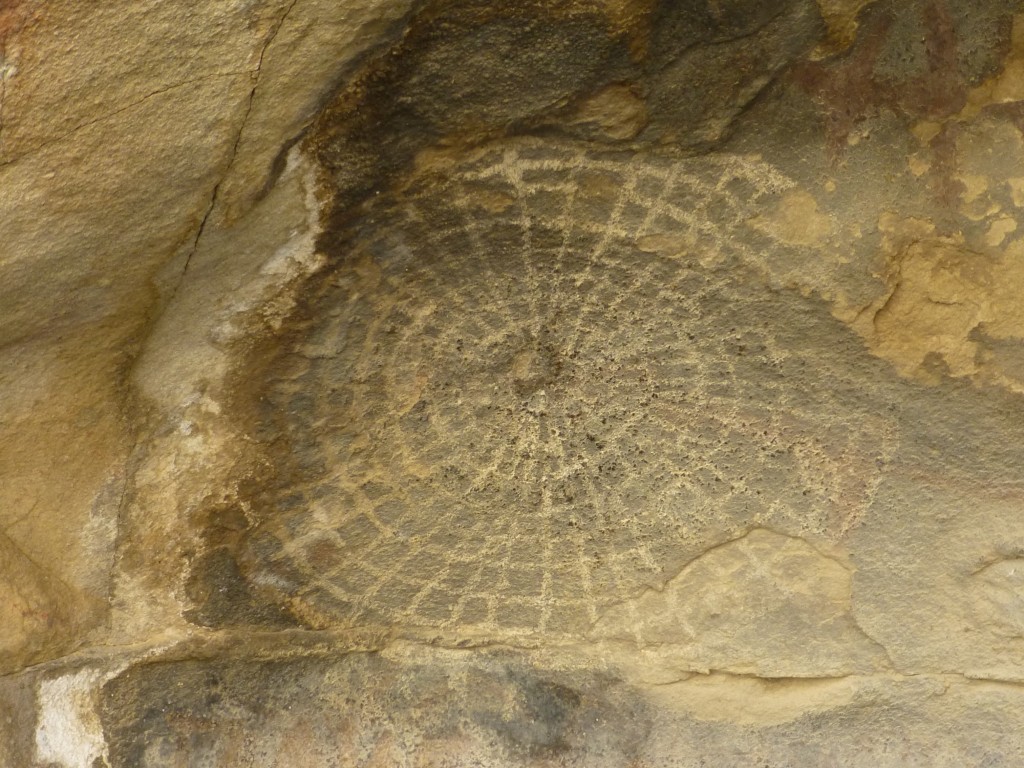 Paintings like this one are called pictographs. This particular, was mostly likely painting using lichen similar to what is still present on the rocks less than 1/3 of a mile away (see above).  We believe that this is a symbol that represents and a blanket but no one is really sure.
Many of the stories, legends, and meanings were lost over the centuries but this one is pretty clearly a lizard!
Purposeful travel is such a meaningful and enjoyable way to see the world.  Learn as you go, gain a deeper appreciation, and come out on the other side with a stronger, more connected appreciation of where you and those before you have been.