2 Mar
This is the first in a series of pieces on how volunteering in Anse la Raye, St. Lucia with Global Volunteers, working toward raising the IQ of a nation, fundamentally changed my husband Dan and me. The two weeks we spent on the island in this village made us reach well beyond where we thought we were capable of going and moved us so far outside our comfort zones that we had to change how we "saw" the world.
Before we decided to serve on the St. Lucia Project, we agreed to live within the people of Anse la Raye's cultural norms. We agreed to observe and not interfere. We agreed to not impose our values on the situation and respect the way of the life in the village.
I read that there was corporal punishment in the schools. With that fact and the solid knowledge that I have never been very patient with other people's grade school aged children (so much so that I actually have a name for them – OPCs) in mind, I listed teaching in the Primary School (3rd through 6th grade) as my very last choice assignment.
That, however, is where I was most needed and where I was reassigned. So that is where I went.
All the literature from Global Volunteers stresses to "expect the unexpected".
Unexpected event #1: I was prepared to spend the two weeks digging in the dirt on the Earth Box project and I packed clothes appropriate specifically for that job. There is a dress code in the schools and female volunteers must wear neat looking, professional, loose shirts with sleeves and pants/skirts that come below the knee. So…first thing Monday morning, to move beyond my wardrobe malfunction, the Country Manager took me with her on her trip to the town 20 km away to buy a few shirts suitable for the classroom.
We got back from town and I walked in my room, the one where students would come in and look to me to help them with reading and writing, at 12:30.
A young man about 10 years old came in the room as I arrived. He asked if he could be first. Before I could smile or say a word an imposing man with a short belt draped over his shoulder, walked in and snatched the child out of the room. I was stunned. It was so sudden.
From next door: "What are you doing Boy?" And then I heard the crack of the belt.…
That was my introduction to the principal and my cue that 1) this man was solidly in charge; 2) I was, in no uncertain terms, expected to follow his rules; and 3) if I did not someone, in this case a child asking what at the time felt like an innocent question, would pay the price.
Message sent and received. Loudly, clearly, and oh so chillingly. Could I really find the strength to swallow the words, all coated with a thick layer of bile, burning their way up my throat…?
Yes, I'd been told that they used the belt so, I guess that should not have been such a shock. I just did not expect that I would hear the snap as it made contact, feel the children hold their breath to brace themselves, and lose a bit of my soul with each crack.
I've been told it is better now. The government has regulated the length of the belt, narrowed significantly who can hand out/authorize punishment, and mercifully restricted contact to the hands (mostly the palms). Small steps and that is good.
I'd agreed to observe and not interfere. I'd agreed to not impose my values and respect the way of life in Anse la Raye. I'd agreed to go where I was needed and asked to serve. This moment was the symbol of the culture that I, like it or not, agreed to live within. I had agreed to do this and be here.
Right then I understood that I had to find a way to steel myself so I could figure out what I was supposed to do and how I could, as I knew I needed to do, leave this place better than I found it. My focus needed to remain on sharing a bit of joy with these students through positive interactions.
At the end of the day as I sat with Dan and we both processed the magnitude of the lifetime we had both experienced in one day, I decided to set an intention for the trip and a goal each day. My initial goal was to have a peaceful day with the principal and take a step toward my intention: making a real, mutually respectful connection with him.
I made a promise to this program and to this village to observe and not interfere so I needed to shift, oh so quickly, and figure out what purpose my presence might best serve.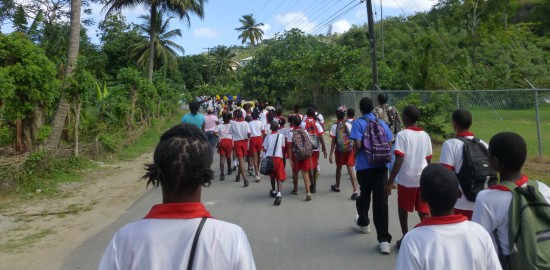 To be completely fair, if someone else had written this and I was reading it as you are  now, I would most likely comment that I could not swallow those words and that I would never be able to establish a relationship with such a man. I might even go into a self-righteous speech about human rights and dignity. I might further deliver an impassioned monologue outlining how it is not possible to teach children about how to live peacefully with one another by beating them into submission. Yes, I bet I would…but
I made a promise to this program and to this village to observe and not interfere so I needed to shift, oh so quickly, and figure out what purpose my presence might best serve.
So I set that intention – to take small steps toward mutual understanding and to spread the power of positive – and I wrote it in stone. My hope was that working toward a genuine connection would help break the cycle for this man with the power to shape lives, and leave him a bit more open to the possibilities with each new volunteer. My deepest wish was that I could leave a good enough impression, one centered on the power of positive, that I might shift the momentum just a bit – maybe enough for the person to move the needle just a bit more.
One intention, one thought, one action, one moment, one person at a time is the only way to change the status quo.
We are exploring how to stretch our thinking, expand our world, and keep our brains firing through purposeful travel.